Be sure that you have filled out an ABSENTEE APPLICATION. You can access this application through the link.
Once you complete your application, you are given these options to receive your ballot.

You can pick up your ballot in person the same day you fill out your application.
Return your application and receive the ballot by mail.
Return it with the option to pick up/return your ballot the day before the election.
You may complete the application and bring it to the office with you to pick up your ballot in person.
Your ballot can be tracked through the Secretary of State's website.
HOW TO COMPLETE YOUR BALLOT
On the Front Page of the Voter Statement:
Please read this information and follow the instructions that are applicable to you.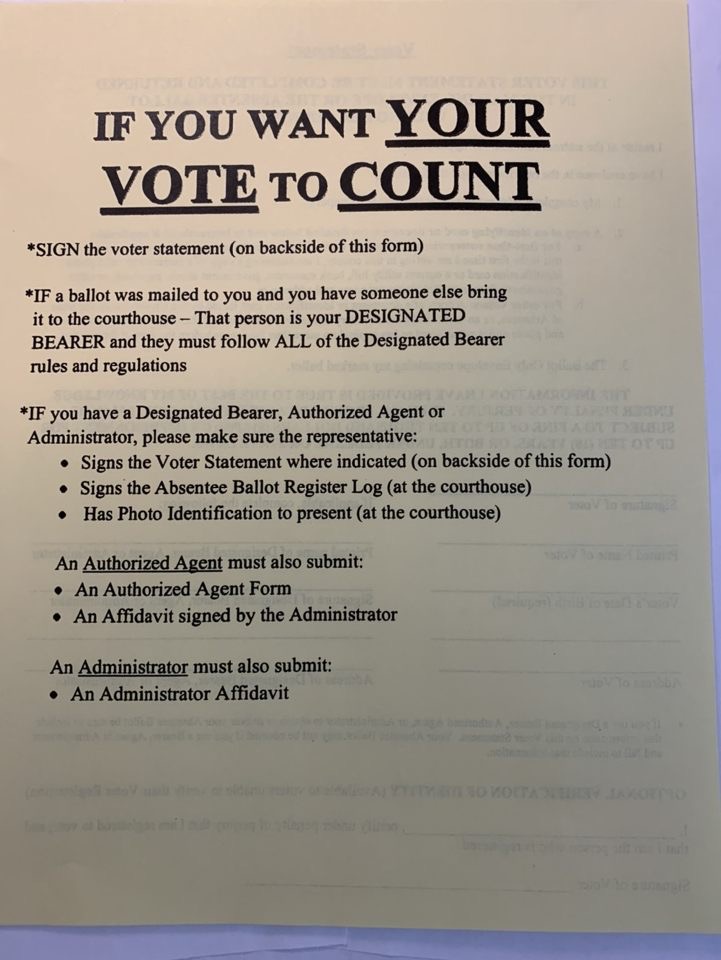 On the Back Page Voter Statement
Sign your name on the line that says "Signature of Voter"
Print your name on the line that says "Printed Name of Voter"
Write your date of birth where it says "Voter's Date of Birth"
Write your address where it says "Address of Voter".
IF APPLICABLE, complete the "Designated Bearer, Agent or Administrator" lines on the right. A Designated Bearer is anyone you choose that obtains or returns your application or ballot.
On the Voter Statement below, there is a paragraph beginning with an * asterix that elaborates further.
Your Ballot Only Envelope
When you complete your ballot, put it in the Ballot Only envelope and seal it.
Your Mailing Envelope
These 3 things go in the Mailing Envelope. You can fold them in half if they don't fit well. Seal it and you're ready to return it. You do not need postage and you do not have to fill out the Election and Voting Precinct lines on the bottom left of the envelope.
Completed Voter Statement (this must be completed and returned in the mailing envelope)
A copy of your valid voter ID (details on this can be found on the back of the Voter Statement under "2."
Ballots that fail to contain a copy of photo ID will be considered Provisional Ballots.
Your ballot in the "ballot only" envelope provided. This envelope needs to be sealed.
Please note: Arkansas does not allow drop boxes.
RETURNING YOUR BALLOT
If you return it in person:

Your ballot can be returned the day you pick it up. You can fill it out in the hallway at the table or take it to your car.

To return in person, you can bring it in to the county clerks office, or if you don't want to come inside, call them at 501.450.4909.
If a bearer or agent delivers, they will need to come in to fill and sign the bearer's book.

If you have any more questions, please contact the county clerk at

501-450-4911
margaret.darter@faulknercounty.org